This unusual tweet showed up in my timeline yesterday… It took me a minute to even figure out who they were. But then I remembered – they were a "social media agency" I'd called out for spammy auto-tweets nearly a month beforehand.
On July 1st by Twitter account became verified. Among the tweets I received was on from GM Agency Group saying: @DylanReeve Congrats Dylan! You met the criteria for Twitter Verification, you're now officially verified.
When I looked at the @gmagencygroup timeline there were dozens of identical tweets (almost all since deleted) to other newly verified accounts.
So I retweeted their message of congratulations with my own commentary: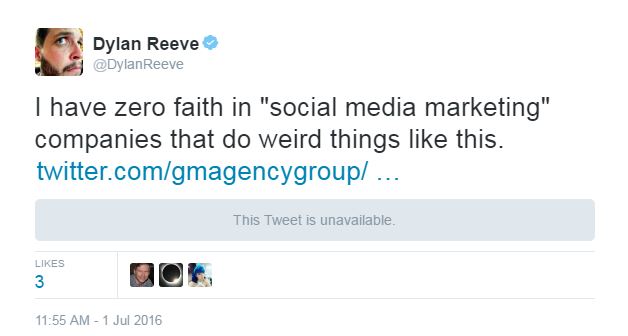 And that was it. They deleted the tweet I mentioned and blocked me. I mentioned them once more in a subsequent tweet to two of my followers, saying: Check out their timeline just a shit ton of Retweets and bot-tweets at newly verified accounts…. @gmagencygroup
So their claim of harassment nearly a month later was curious, as was their very unusual method of making it. It's not unlike when people write their own dubious legal threats but CC their lawyer.
They did double down on their threat when I called it out in a since-deleted Tweet: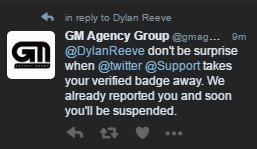 So, who are GM Agency Group?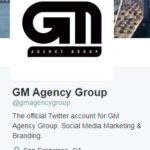 Well, they claim to be a social media marketing and branding company based in San Francisco. Their Twitter account was created on June 17th, and their website (gmagencygroup.com, which redirects to their Twitter account) was registered, anonymously, two days later.
They only follow 211 people (as I write this) yet have about 18,000 followers. TwitterAudit.com says that only 33% of those followers are fake but, given that the vast majority of their timeline consists of fairly random retweets from high profile accounts, it seems questionable.
As I write this their Twitter timeline consists of 164 tweets, only 17 of which are not retweets. Of those 17, 6 are contentless replies to very high profile accounts, 2 are messages congratulating users on being verified and 4 are tweets about harassment (seemingly related to me?)
They also have a Facebook page… It has 501 likes. Their first post, on May 30, has 321 likes and no comments. Neither of their other two posts have any comments or likes at all.
The Facebook page doesn't offer much more insight really – the short description simply reads: The official Facebook Page for GM Agency Group
But the long description and bio are a little more interesting…

Westley West is a real pastor at Faith Empowered Ministries in Baltimore. But that's as much as I can figure out. There's no obvious reason that he would also be claiming to be running a social media agency from San Francisco?
What about the company itself then? Well a Google search for GM Agency Group find almost nothing aside from their tweets and references to them.
There's no sign of a California company called GM Agency Group either.

And their logo… It appears to be stolen from a European company called GM Media.
So what is GM Agency Group?
If they are a fake company then what is their goal, and why do they care about a month-old tweet I made critcising their tactics?
If they are a real company then who are their clients, and how can they claim to have any expertise about social media when they can't even demonstrate an ability to use it effectively?